---
Main Menu :
Legal Study Abroad HQ
:
Asia Index
: Duquesne Summer Study of Law in China

Duquesne University School of Law and China University of Political Science and Law



SUMMER STUDY OF LAW IN BEIJING:
The legendary animal above represents the law; in fact the one-horned creature evolved into the character for 'Law,' in the Chinese language. Today, Chinese law itself is evolving, as one of the world's oldest and most insular cultures opens to the world. Nowhere are these changes more evident than in Beijing, center of Chinese Government.
With China playing an increasing role in global commerce and politics, an understanding of the Chinese legal system and its cultural roots is vital. And again, where better to gain this understanding than in China's capital, Beijing?
The first and only opportunity, for summer study of law in Beijing is now available, sponsored by the Duquesne University School of Law and hosted by the China University of Political Science and Law (CUPL), China's largest and most prestigious law school. Duquesne and CUPL have maintained an exchange program since 1990. Now, their combined expertise is available to American and other English-speaking law students, on site in Beijing.
The program features a comprehensive summary of the Chinese legal system. Students completing the program will receive four and one half hours of ABA approved credit. Lectures on Chinese language and culture are also included in the program, at no extra charge. All classes will be taught in English by the leading Chinese legal scholars.
CURRICULUM:
This intensive three-week program provides students with an understanding of the Chinese legal system, the PRC's domestic and foreign economic laws, and the role of Chinese and foreign lawyers in implementing those laws. Among the topics covered are: Chinese legal history; the current Chinese legal system; the practice of law in China by foreign lawyers; constitutional law; civil law and procedure.; criminal law and procedure; marriage law; inheritance; domestic and foreign economic contract law; corporate law; real estate law; intellectual property; foreign investment and tax law; and mediation and arbitration. Non-credit lectures on Chinese language and culture will be provided at no additional cost.
Students who satisfactorily complete the program receive four and one half hours of ABA approved credit and a certificate of completion. Student evaluation and grading are entirely within the discretion of Duquesne University.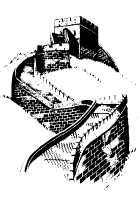 THE CLASSROOM: BEIJING
All classes are held in the morning, so students are free to explore Beijing in the afternoons, CUPL's downtown campus, where classes are held, is within a short commute of Tiananmen Square, the Great Hall of the People, the Forbidden City and the Summer Palace. Students are able to freely travel around the city, walk Beijing's historic streets and neighborhoods, and meet its citizens. To understand a nation's laws and legal system, it is necessary to understand its people, Beijing, the magnet city that draws people from all of China's provinces, provides in unparalleled opportunity to "experience" all of this vast and diverse nation.
Optional tours are also available at moderate cost to the Great Wall, the Ming Tombs and other sites.
FACULTY:
The faculty consists of Professors Alfred S. Pelaez and Frank Y. Liu from Duquesne and more than a dozen of the PRC's leading legal scholars and practitioners. Among the noted Chinese scholars are: Professors Li Jingbing, Jiang Ping, Wang Weiquo, Wu Huanning, Yang Qinhuo, Yu Shutong, Zhou Zhongai, and Zhu Yong.
China has developed, and is yet developing, a broad array of new laws to effectuate its shift from a planned to a market economy and to modernize its domestic laws. The CUPL, faculty is directly involved in drafting the new laws. You may find that your critical comments, as did those of last year's students, will "find their way into" one of China's new legal codes.
STUDENTS:
Last year's class included students from 23 American and one Canadian law school. Among the law schools represented were Boston College, Cornell, Denver, DePaul, Duquesne, Georgetoivn, Hastings, Iowa, Louisville, McGeorge, Miami, Missoui-Columbia, Pace, Pittsburgh, Rutgers-Camden, St. John's, St. Mary's, San Diego, Seattle, Southwestern, Touro, Vanderbilt, Wake Forest and Western Ontario.
Those students listed the following as factors contributing to the success of the program: The central location of the program; friendly atmosphere; free afternoons, good hotel facilities; high quality of the professors; cultural experience; comprehensive program materials; impressive substance of the program; the sense of security provided by the CUPL and Duquesne on-site professors; interaction with Chinese scholars, lawyers and students; and meeting other American students with similar interests.
ACCOMMODATIONS:
Participants will be housed in the Jimen Hotel, a modern facility located within walking distance of the CUPL lecture hall. The hotel is equipped with western-style bathrooms, air conditioning, carpeting and an international telecommunications facility. Program fees include a room with double occupancy. Single rooms are available for an additional cost.
COSTS:
Tuition fees: The tuition and fees, which includes all lectures and course materials developed by Duquesne University, and a room with double occupancy, are $1,995.
Food: A welcoming and a farewell banquet are included in the fee, Costs for daily meals are not included. Meals can be purchased in the hotel dining room for approximately $1,00 U.S. per day, Students have found that sampling Beijing cuisine in the excellent neighborhood restaurants costs less and provides an interesting alternative.
Travel: Costs for travel to and from China and visa processing fees are not included.
FINANCIAL AID:
A number of students have obtained student loans though their own law schools to attend the program. Please contact the financial aid office of your school for proper procedure for applying for loans. Duquesne University will provide supporting documents.
APPLICATION:
Eligibility: A total of 35 to 50 students will be admitted, Enrollment is open to current students of American law schools and other English-speaking law schools around the world. Each applicant must submit a letter from his/her Dean certifying good standing. Enrollment is on a first-come, fist-served basis.
Application an Payment Deadlines: The application form and a non-refundable deposit of $250 must be received by March 15, 1996, The balance of tuition and fees ($1,745) must be received by April 15,1996.
CANCELLATION:
Duquesne University reserves the right to cancel the program due to insufficient enrollment or other extraordinary emergency conditions. In the event of such a cancellation, deposits will be refunded.
TRAVEL:
Documentation: Duquesne University will handle visa processing for all enrolled students, A fee of $60 covering visa application fee and costs for express mail is required. All students must have a valid passport.
Arrangements: Students are responsible for making their own travel arrangements to and from Beijing, Travel information is available from Duquesne University. Liability: Duquesne University will not be responsible for any personal injury, property damage or illness encountered by participating students during the program. All students are advised to purchase appropriate insurance against accidents and loss of baggage.
CONTACT:
For application forms and further information, please contact:
Professor Frank Y. Liu
Associate Director, China Legal Study Program,
School of Law
Duquesne University
600 Forbes Avenue
Pittsburgh, PA 15282
Phone: (412) 396-6188
Fax: (412) 396-6294
E-mail: liu@duq2.cc.duq.edu
Include: Name, Address, Phone Number, E-mail Address, Law School, and Graduation Date